ShopiVate- Resistance Band Set(11 In 1 )
ShopiVate- Resistance Band Set(11 In 1 )
SKU : Band_97175
Sale price
Rs. 599.00
Regular price
Rs. 1,999.00
Unit price
per
1 Offer Available
SHOPIVATE100 FLAT ₹100 OFF On Every Order Above ₹1000/-.
Share
Description
 

 MULTIPURPOSE RESISTANCE BAND 11 PIECE SET


Up for sale is a resistance band set with the following items:
- 5 resistance bands (10 lbs - 50 lbs)
- 2 handles to attach resistance bands
- 1 storage bag
- 1 door attachment
- 1 poster with exercises
- 1 workout guide

Different color adjustable resistance bands: Yellow (10 lbs), Blue (20 lbs), Red (30 lbs), Green (40 lbs), Black (50 lbs). All Shopivate exercise bands are 36" in length, and can be used alone stacked in any combination to a maximum equivalent of 150 lbs.

Good quality materials: Shopivate resistance band is made of natural latex is kind to the environment. Strong wear resistance and great elasticity, non-slip handle, comfortable and absorbent.

Personal home gym: This resistance band set includes 5 exercise bands, 5 loop bands, 1 door anchor, 2 cushioned handles, carrying case and user manual to allow you to perform a variety of resistance training exercises possible at home.

Suitable for daily use: Each fitness band is carefully constructed to resist snapping and breaking, which are able to withstand intense daily exercise sessions. Now enjoy the exercise Shopivate resistance bands!
TRAIN LIKE A PRO FROM THE COMFORT OF YOUR HOME!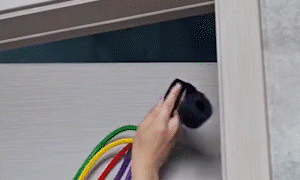 Our award-winning
resistance bands provide a great way for individuals to work out at home. Whether you're at the gym and want to
use this to aid in your exercise
or at home and are looking for a new way to work out and stay in shape ...
These resistance bands are a great choice!
The Shopivate Resistance Bands Set is specially designed to enable more than 150 different exercises and a wide range of resistance/weight, so you can work any muscle group in the body in countless ways.
Get the results (and look) you want quickly and effectively, from the comfort of your own home.
COUNTLESS EXERCISES
Specially designed and includes all the necessary accessories for more than 150 possible exercises for all muscle groups - suitable for any fitness level.
Whether you want a complete body workout, or to work on just one muscle group at a time, the Resistance Bands Set is your perfect solution.
EASILY SETS UP IN SECONDS
With the included Door Anchor, handles, and ankle straps, you can set up the Resistance Bands in seconds. Just choose your desired exercise, set up accordingly, and start your workout.
GET THE RESULTS YOU WANT
The weight range is perfect for getting the results you want, whether you are looking to build body mass, tone your muscles, or burn body fat.
WORKOUT EVEN IF YOU CAN'T FIND THE TIME
Have only a few minutes a day, or having difficulties finding the time to work out? No problem! Because of the accessibility and quick and easy setup, Resistance Bands allow you to do a few quick sets whenever you have time and go on with your day.
FREQUENTLY ASKED QUESTIONS
Q1) What do the different colors mean?
The different colors each have a different amount of resistance to them, their pull values are listed below:
Yellow: 4.5 kg
Blue: 9 kg
Green: 13.5 kg
Red: 18 kg
Black:  22.5 kg

Q2) Will I be able to target all muscle groups using this? 

(Answered by a customer) Yes! You just need to be creative with this, this resistance bands were one of the best purchases I made for my health during the lockdown. You will be able to target all parts of your body, you just need to be creative enough.
Q3) Where are these products sourced from?
 We source all our products from manufacturers and suppliers in India.